Chocolate Collective
New for 2023 – Deluxe Workshops in Bristol
Chocolate Collective Deluxe Workshops
Delicious Experiences for Chocolate Lovers
Ideal for individuals, couples or small groups, Chocolate Collective Deluxe Workshops are designed to be fun and interactive. You will learn new skills and leave the workshop with a selection of beautiful dark chocolate truffles to take home. Our deluxe workshops are held in central Manchester, Birmingham, Leeds and Bristol.
A perfect fun filled afternoon. A good giggle and we made some rather impressive chocolate in lovely gift bags.
Adult Celebrations
Celebrate with a Chocolate Workshop
If you're looking for a unique and inclusive activity as part of your celebrations, then you're in the right place! Our Celebration Workshops are an ideal way to get everyone involved, whilst learning the art of Belgian chocolate truffle making. A celebration workshop promises to be lots of fun and you'll leave with more than your fair share of truffles…unless they get nibbled during the session that is!
Hen Parties, Birthdays, Anniversaries, or a friends reunion, whatever you are celebrating, a chocolate workshop is a brilliant way to get everyone together and indulge in a bit of chocolate creativity.
Kids Activities
A World of Pure Imagination
Our mini chocolate making experiences are ideal for little chocolatiers. Transform your child's birthday party, Bar/Bat Mitzvah, or Holy Communion into a chocolate party that would rival any Willy Wonka performance.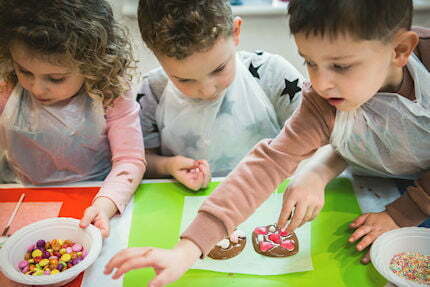 Kids Parties
Making chocolate lollipops, moulding chocolate shapes, decorating chocolate buttons… transform your child's celebration into a chocolate party that would rival any Willy Wonka performance!
Schools
Yes, it's true! Chocolate is on the National Curriculum and Chocolate Collective delivers chocolate classes and lessons to schools across the North West, West Midlands and Yorkshire.
Out of School
Workshops for Brownies, Cubs, Scouts, After School and Holiday Clubs. We work alongside child care professionals delivering out of school, chocolate making fun!