Chocolate Collective: More Than a Children's Party
Our Children's Party Packages are amazing for birthdays, but they can be so much more than that.
Our Children's Party Packages are a popular choice for birthdays – whether hosted at home or at a venue of your choice. However, the concept can be taken anywhere!
I recently had the pleasure of running a chocolate workshop for 75 children attending a Bar Mitzvah in Prestwich. The children were of different ages and genders, and obviously, all the ingredients I provided were Kosha (my workshops can cater for most dietary requirements). We made chocolate lollipops with yummy toppings and moulded chocolate into the fun shapes, we even made bars of chocolate!
Whatever the occasion, if you're looking to treat or entertain the little and big kids alike, then an interactive experience, that captures their imagination and appeals to their taste buds is a no-brainer. From weddings to work events to street parties, a chocolate workshop and non-stop chocolate fountain are the perfect ingredients to make sure the kids have just as much fun as the adults at these celebratory events.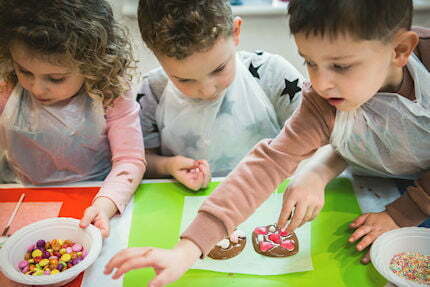 Here are just a few examples of where we might be able to help!
The Wedding
Kids love a wedding…throwing the confetti, knee sliding across the dancefloor, but what about the bits in-between, the bits adults love but kids find slightly dull like the speeches or drinks receptions? Keeping the kids entertained means that adults can mingle and relax for a short time. And don't fear…although the workshop contains plenty of chocolate, the pinnys we provide will protect those special outfits.
Adult Big Birthday
Whether you're celebrating a 40th, 50th or 60th, kids love an invite to an adult party, it makes them feel so grown up. However, they soon get bored by adult conversation. Make them feel special too with a dedicated kids' area; complete with games such as Connect4, Jenga or Limbo, an arts and crafts table, and, if they're really lucky, a Chocolate Collective Kids Workshop. We're a mobile service, we bring all our own equipment – all we need is some space and a plug point to make it a party you and they'll never forget.
Family Corporate Days
It's lovely when kids are invited to work events, they can see where their Mum and Dad work and charm their colleagues. But if the bouncy castle and glitter tattoos have lost their appeal, you may want to consider something a little more creative, which shows your employees you've really thought about their family circumstances. Our workshops keep children entertained and encourages them get to know each other, whilst giving the parents plenty of time to mingle and chat…stress-free. We could even use your brand colours in the chocolate decorations or use some branded merchandise for the kids to package and finish their creations. They won't forget who put on this amazing experience for them.
Cubs, Scouts, Girl Guides, Brownies
Did you know there is a chocolate badge!? What better way to earn it than to learn about the history and production of chocolate and to create your very own chocolate masterpiece. Our workshops are a big hit with after school groups and clubs. Equally appealing to both girls and boys, this is a chance for kids to get creative, learn something new and have buckets of fun.
Whatever the Occasion…
Street Party? Back garden BBQ? End of school treat? Keep the kids entertained and out of mischief with our delicious chocolate workshops. Because we offer a range of chocolatey activities our workshops can be enjoyed at any age and can be tailored to suit your event. And, since chocolate is universally loved, I'm yet to meet someone who doesn't want to get involved.
If you've got an event or party coming up, or you're an event planner looking for something to impress your clients, get in touch today.