Ways to Use Our Chocolate Truffle Making Kit
We're proud to introduce our new DIY Chocolate Truffle Making Kits, they're the most delicious way to bring some chocolatey fun to your next celebration, and what's more, they're available to
buy online
, right now. In the meantime, keep reading to find out how you can make them a hit at hen parties, wild at a work event, and brilliant at a birthday party…
I'm thrilled to finally be able to share my much-anticipated Chocolate Truffle Making Kits with a nation of chocoholics.
Perfect to use at home or away, in person or virtually, at a big event or an intimate soiree – these kits have been designed with flexibility in mind. Making them ideal for those who dream of a decadent Chocolate Collective workshop but aren't able to attend in person.
But, I hear you cry, what's the best way to use my kits? And how can they help you bring an epic amount of fun to your next celebration? Well let me tell you all about it…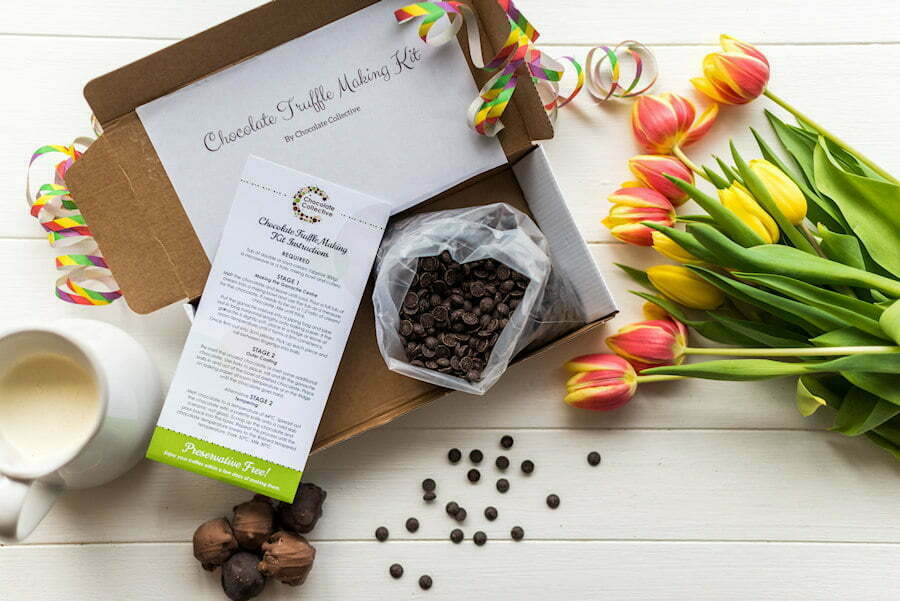 Having a Hoot at a Hen Party
The perfect ice-breaking activity whether you are hosting an intimate in-person party or an everyone's invited virtual soiree. My Chocolate Truffle Making Kits are a fun way to get a group of people, who may not know each other very well, to have a real giggle together.
There's also plenty of opportunity to make the bride-to-be feel special…like kitting her out in a personalised apron and chef hat! And you can add some additional ingredients to your Hen Party Kit including mini bottles of bubbles or risqué moulds to have fun with the leftover chocolate.
*Choc Tip* The Chocolate Truffle Making Kits work in any hen party scenario. They can be shipped to each person's house, delivered to a venue like a cottage or hotel, or delivered to the organiser for an at-home soiree. Giving you complete peace of mind!
Meltingly Good Milestone Birthdays
Celebrating a milestone birthday with family can be tricky, most families have some members that live in different cities and getting everyone together can be a logistical nightmare. But not anymore with our Chocolate Truffle Making Kits. Your milestone birthday will become the virtual event every member of the family is desperate to attend.
Have fun with invitations, giving them a chocolate theme…it'll be a brilliant way to build anticipation before your event and will get the family WhatsApp chat will be buzzing! It's also a wonderful activity that every member of the family, from Grandma through to a grumpy teen, will enjoy.
Leaving you free to save your 40th big bash for your friends but still find a way to include the oldies.
*Choc Tip* Send out personalised party bags to your family in the post. It'll be a fun way to store all the delicious truffles they make!
Tantalising Team Building Events
After a year of Zoom quizzes, isn't it high time you offered your employees something fun, and different, for their next team building event? After all, they've worked incredibly hard for you over the last year, in what has been extremely difficult circumstances!
My Chocolate Truffle Making Kits are the perfect activity. They can be done in the office, at home, or even a combination of both for ultimate flexibility. There'll be no last minute cancellation of your event because someone is self-isolating!
What's more, you can theme your event to reflect your brand or tie in with a new creative campaign or product you're launching. Encouraging your team to embark on a fun project and learn brand new skills is a great way to reward, engage and build team camaraderie.
*Choc Tip* Introduce some healthy competition to your team building event with prizes for 'Most Truffles Made', 'Creative Ingenuity' or a boobie-prize for 'Two Left Spatulas'.
An Anniversary to Remember
Make your next anniversary as memorable to your nearest and dearest, as it is to you, by celebrating with a Chocolate Truffle Making Kit.
This could be a wedding anniversary, with virtual invites for all the family. Or the anniversary of your University graduation with an alfresco soiree for your best pals. Or even the anniversary of moving into your dream home…we encourage any excuse for a party.
Make your event really special by decorating your virtual or outdoor space…it could be personalised bunting featuring the happy couple or 90's themed music and drinks (Bacardi Breezer anyone?) if that's when you went to Uni!
*Choc Tip* Introduce a quiz about whatever you are celebrating…the happy couple, Uni anecdotes, who lives in a house like this! Winner gets to consume all the left-over chocolate.
A Blooming Brilliant Baby Shower
Celebrating the impending arrival of a little bundle of joy should be joyful…and what is more joyful than a mountain of chocolate truffles!
Make your Chocolate Truffle Making Kit work even harder for you, by interspersing the cutting, piping and shaping processes with fun baby games. Like prediction cards, where everyone attending can guess the sex, arrival date, weight and name of the baby…it'll be kudos to whoever gets it right. Or how about 'Don't Say Baby', with chocolatey forfeits every time someone utters that banned word.
Whether you're celebrating a baby shower virtually or in person, the Chocolate Truffle Making Kits are a great, inclusive activity that will guarantee a party vibe…even if it is only No-secco being served.
*Choc Tip* Each Truffle Making Kit makes an average of 30-40 individual, Malteser size truffles – which can double up as Baby Shower favours. All you need to do is provide a blue or pink bag to take them home in, depending on whether you're expecting a boy or a girl.
Now that I've got your tastebuds tingling for just how amazing my Chocolate Truffle Making Kits can make your celebration, here's what you need to know. Each kit costs £25 plus P&P per person. Kits are available to buy online and can be shipped anywhere in the UK. Kits come with everything you need to make delicious Belgian chocolate truffles, all you need to provide is some cream, a microwave, mixing bowl and a spoon.