Kids Chocolatey Activities
Our fun and tasty workshops can help to add variety to any kid's activities you have planned. Ultimately, it's about having fun of course, but we also sneak in a bit of education along the way (but don't tell the kids). Our mini chocolate making experiences are ideal for those budding little chocolatiers who want to get a little bit messy.
Transform your child's birthday party, Bar/Bat Mitzvah, or Holy Communion into a chocolate party to rival any Willy Wonka performance. Whatever your child is celebrating, our chocolate workshops will be the talk of the playground.
All children love getting creative with chocolate, no matter what their age. At Chocolate Collective, we also deliver chocolate classes to primary and secondary schools across the North West, Midlands and Yorkshire. As well as working with schools and teachers, we often work alongside childcare professionals delivering out of school, chocolate making fun! We've helped many Brownies achieve their "Chocolate Badge" as well as Cubs and Scouts with their "Cook Activity Badge". Make your Holiday Club stand out from the crowd and offer kids something different with a chocolate day.
We tailor our kid's activities according to age group and let the children get creative with chocolate.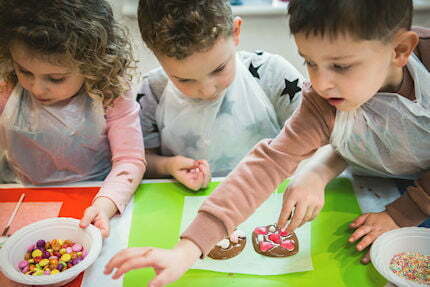 Kids Parties
Making chocolate lollipops, moulding chocolate shapes, decorating chocolate buttons… transform your child's celebration into a chocolate party that would rival any Willy Wonka performance!
Schools
Yes, it's true! Chocolate is on the National Curriculum and Chocolate Collective delivers chocolate classes and lessons to schools across the North West, West Midlands and Yorkshire.
Out of School
Workshops for Brownies, Cubs, Scouts, After School and Holiday Clubs. We work alongside child care professionals delivering out of school, chocolate making fun!